Making lives better. Keeping you safe.
We're looking for more good people to join our whānau and help us achieve and deliver our mahi - Kotahi anō te kaupapa: ko te oranga o te iwi There is only one purpose to our work: the wellness and well-being of people.
The world of Corrections is largely hidden away and most people haven't considered what it might take to become an officer. While we may not always be visible, we play an important role in keeping our communities safe, while helping people in prison get the help they need.
It's a hugely diverse, rewarding and challenging mahi. We to invite you to discover if you can help make lives better and keep everyday New Zealanders safe.
Working as a Corrections Officer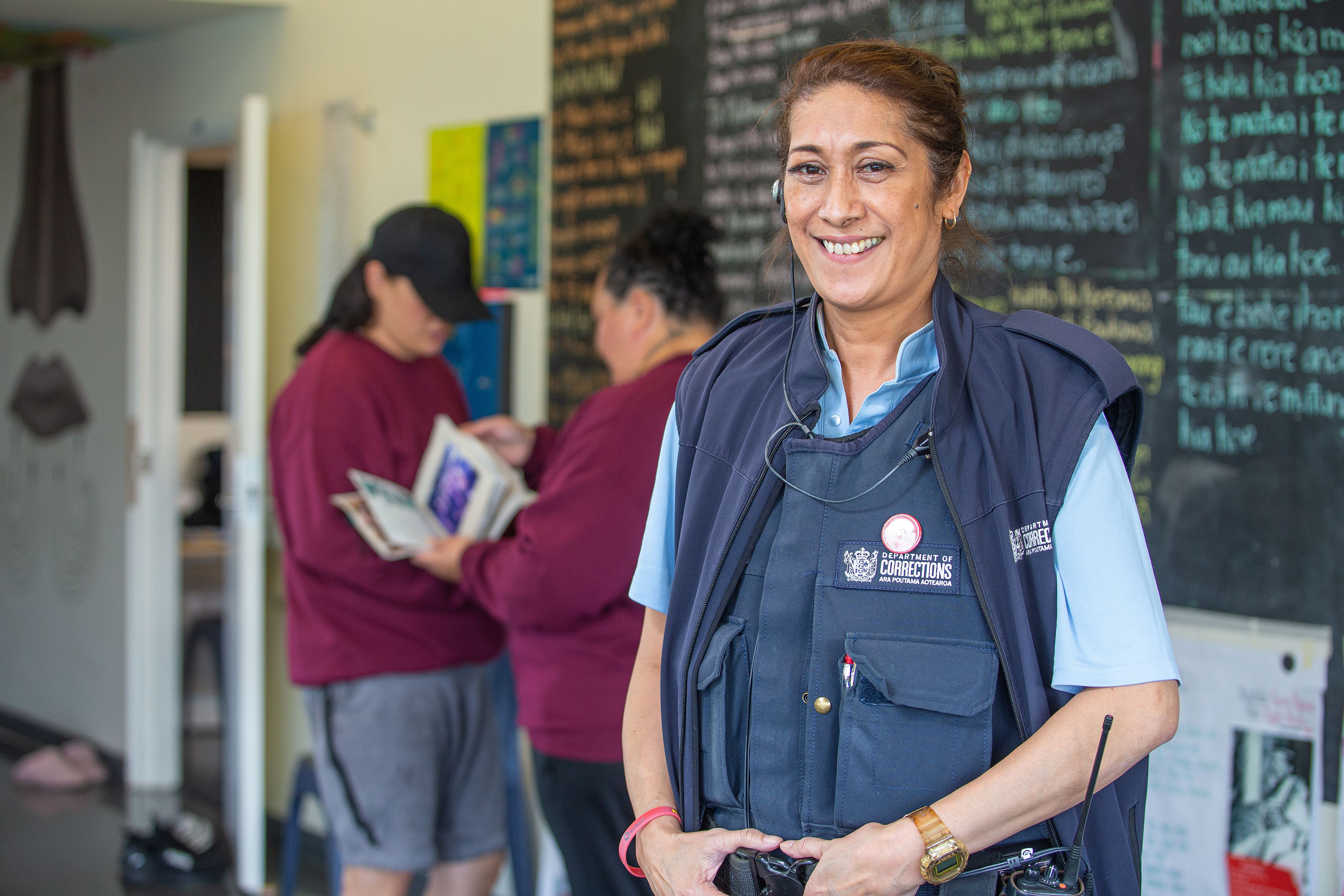 Make an ongoing impact
Corrections Officers are there with people in prison throughout their daily activities, providing ongoing opportunities to influence change and motivate positive decisions.

They supervise prisoners' routines, take them to hearings and appointments, support them to engage in rehabilitation programmes, and work with case management to help them lead an offence-free life.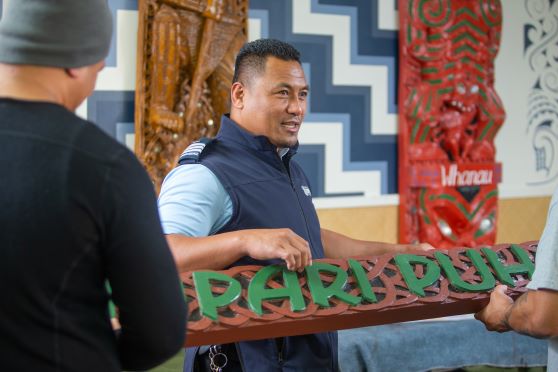 Diverse environments
Our Corrections Officers work across a diverse range of settings, with different specialist units, security levels and site-specific activities all creating different day-to-day experiences. Some work in specific focus units such as our drug and alcohol treatment units, youth units, Pasifika units, Māori and Tikanga focused units, Mothers and Babies units and Special Treatment units.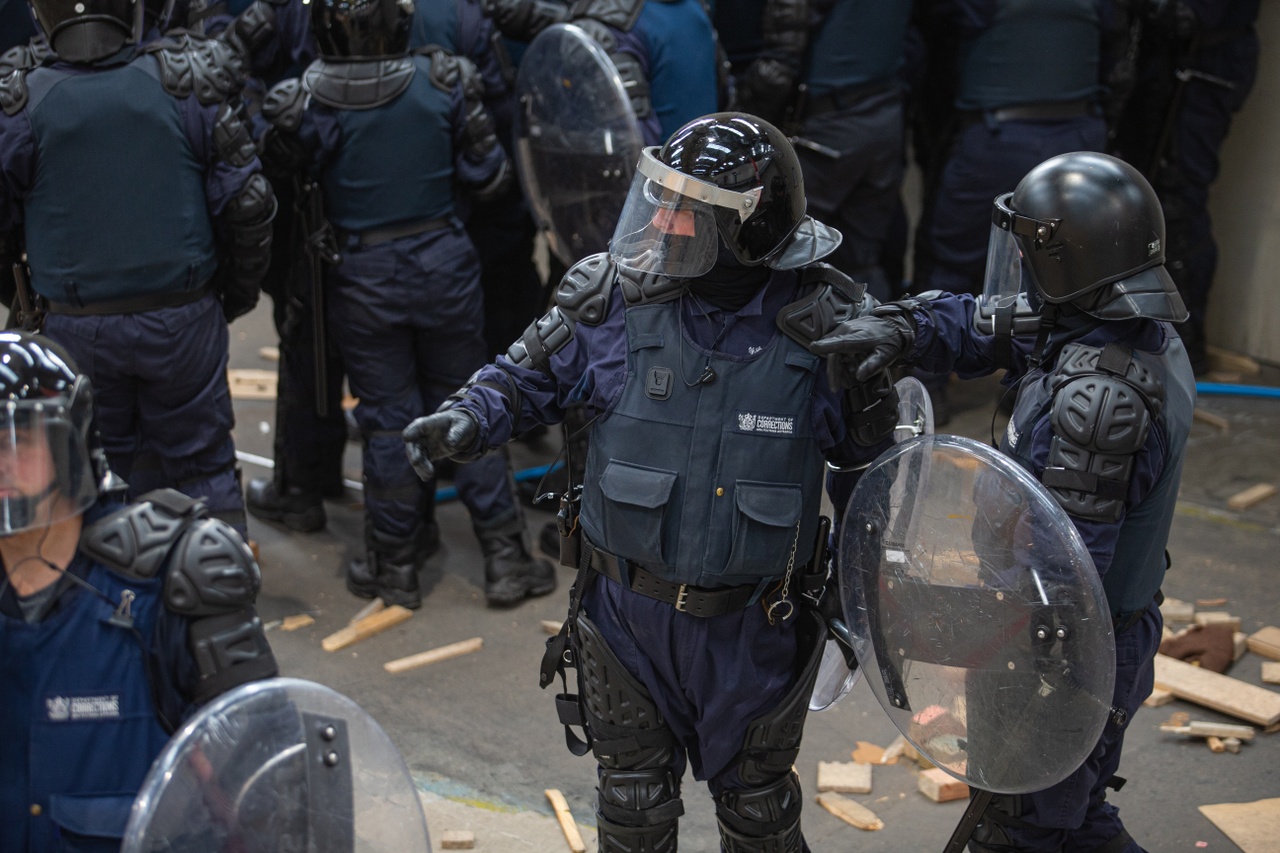 Safety matters
Working as a close team, you'll play an important role in monitoring behaviour and maintaining safety within the prison. You'll patrol prison buildings and grounds, assess situations and take appropriate action.

Our Correction Officers are supported by other custodial staff, with backup, training and equipment readily available for when they need it. From detection dogs to emergency response, negotiators to tactical operations – each situation that needs extra support has a team available. There are also opportunities to specialise in these areas as you progress in your career.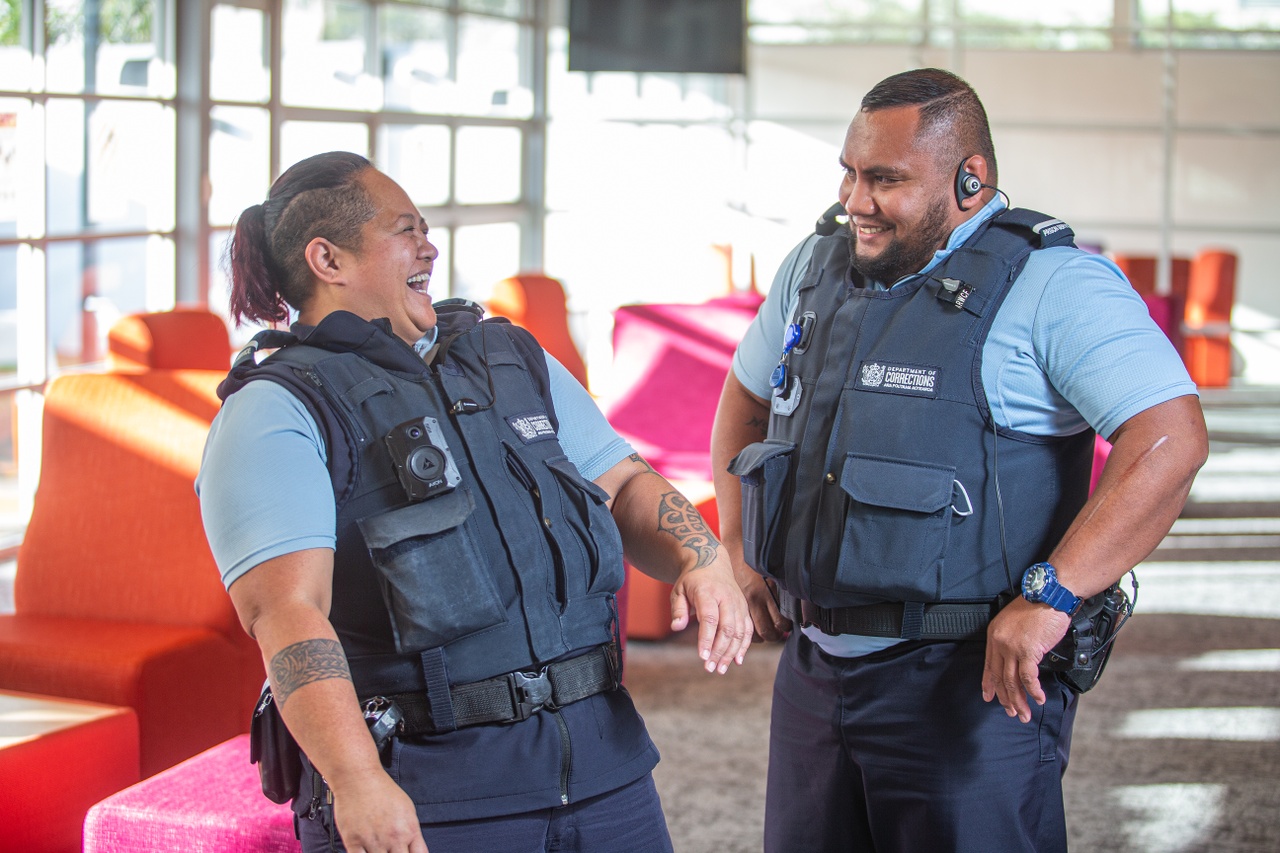 We've got your back
Working as a Corrections Officer is a team-based role. Our Corrections Officers work closely with other officers, and are supported by other teams onsite including instructors, case managers, nurses, programme facilitators, and psychologists.


What you need to know
Time off & hours of work
5 weeks annual leave
Rostered rotating shifts including nights, weekends & public holidays
Salary
Starting salary $59,519, increasing as you achieve National Qualifications Level 3 ($64,197) and Level 4 ($69,363).

Training
11 weeks training through the Corrections Officer Development Pathway (requires some time away in Upper Hutt, paid for by the department).
Career development
Opportunities to gain qualifications in Level 3, 4 and 5 in the National Certificate for Offender Management and to branch into more specialised areas
Progression opportunities to Senior Corrections Officer, Principal Corrections Officer
Skills and experience
Strong communicators, team players, ability to motivate others, work well under pressure
Observant, alert and resilient
Full NZ Drivers Licence

Environment
Based at one of our prisons in NZ, which each have different units, programmes, and site specific activities.


Still thinking it over?
Share your details and we'll send you more about what it means to be a Corrections Officer at Ara Poutama Aotearoa.
Apply now, change tomorrow
Recent stories
Michelle's journey with Ara Poutama Aotearoa started with a story much like this one.
We're also recruiting
There are lots of other careers inside Ara Poutama. Here are just a few that we're currently recruiting.
Nursing
Work with our nēhi (nursing) whānau and be a part of our holistic vision for healthcare, supporting rehabilitation in an environment that looks out for and cares for each other.
Probation Officers
Work with offenders to make sure they are meeting the requirements of their sentence and have the support they need to do so.
Psychologist
Working in an interdisciplinary team of health practitioners, we provide a range of health and wellbeing screening, assessments and treatments from the time offenders are received into prison and into the community.