3 August 2023
From writing about Corrections to becoming the subject matter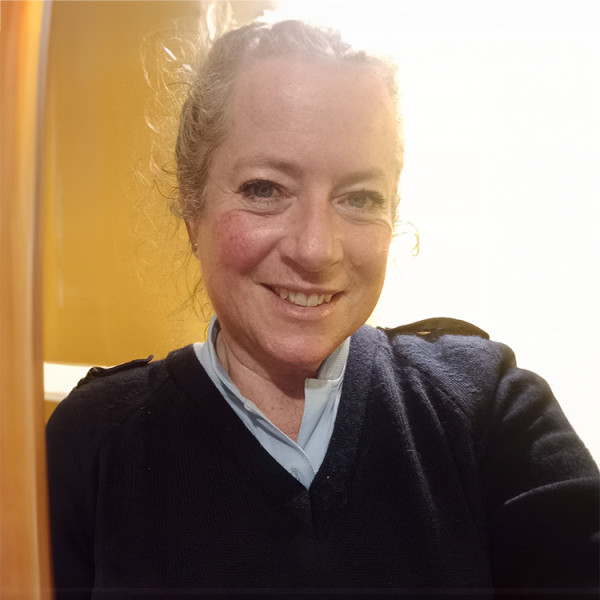 Michelle's journey with Ara Poutama Aotearoa started with a story much like this one.
She was freelancing as writer at the time and was working on a piece about the induction process at Corrections. As she learnt about the role through her research for the piece, she grew curious about whether the role could be for her.
"I can remember sitting at home, at the table, with an application pack to become a teacher and an application pack to become a Corrections Officer. I sat there for some time with the two propped up, side-by-side, just looking at them, considering. I realised that as much as I had always wanted to be a teacher of sorts, I would have to do a three-year course at the time and have quite a substantial loan at the end of it. Whereas as a Corrections Officer I'd get in there and be earning from day dot."
Michelle decided to take the plunge. Once in the organisation, she's had the opportunity to experience multiple different areas and roles, including working a Prison Negotiator and as a Principal Corrections Officer.
Different units have also provided different experiences. For example, one of the units that Michelle worked in were self-care units – units in the prison that help men who are close to being released to transition back into the community.
"Someone housed in self-care has generally completed their programmes – they've taken a look at themselves and how they contributed to their own offending.
In a self-care unit, they have to cook for themselves. They need to budget. They need to work out what they're going to eat. Don't know how to cook? No problem. We're here to help you with that.
So along with Case Management and Probation, we work collectively to help our men to move forward into a position where they can pick up for themselves. That might be through accommodation, employment. There's the Release to Work programme, which means someone can go outside the secure perimeter, work in the community during the day, but come back to prison at night.
It helps with the transitional period, which means that whenever things are changing, that man can rely on something to remain the same. Something is going to be the same when everything else is changing."
Currently, Michelle is working in Prison Visits, which she says also provides opportunities to help guide people towards a different path. One of the activities that she is especially passionate about is encouraging fathers to read to their children and enjoys helping the men to see value in it.
'Prison Dads' might go, "oh, I don't want to read a book, she's only a baby". 'Like, yeah true, she's only a few weeks old however she's starting to see you. She's hearing your voice, watching you. If you keep reading that story along with other stories, she'll equate that story with you. Your baby is getting used to your voice, seeing how your lips move, your facial expressions; they're learning from that. They copy you and you're helping them learn'.
If we can help create that bond between father and child, why wouldn't we support that to the best of our ability?"
Michelle says that her team also donates books to whānau through a partnership with Storytime Foundation, so that the learning can continue for prisoners' children into their own homes.
Describing the Corrections Officer role
When asked how she would describe the role, Michelle says that Corrections Officers see both the best and worst in individuals.
"As a Corrections Officer I came to understand everyone has a past and usually their path to prison didn't happen overnight.
Listening and encouraging someone to make a better decision is a huge part of our day. The decisions can be as small as encouraging a prisoner to articulate themselves or as large as supporting their leaving a negative lifestyle.
Meanwhile we follow processes designed to help our day flow smoothly and when we're disrupted, we pull together to do the best we can. When our day flows well, it's one of the best jobs I've ever had."
She says that enjoying working with people, being able to read situations, working as a team and the desire to support change are some of the keys to working as a Corrections Officer.
"It's just massive amounts of interaction, so you need to be a people person.
You need to be able to read situations, as they can change quickly…. and to be a role model because how you react to things can model a different approach.
You've got to have a desire to see things being better and you can't do it on your own. It's got to be a team. Every single person has something to contribute including, most importantly, the prisoner themselves. Individually our prisoners need to want to make the change and by positively supporting, we enable them to make better decisions."
Advice for those starting out
Michelle says that for those considering the role, she recommends that they take advantage of scope days on site to really learn about the role and figure out if it's for them.
For those starting out on the floor, she provides a metaphor to help people navigate what can feel like a totally different world.
"I see Corrections as a 10,000 piece jigsaw puzzle; after your first year you might have one or two of those corners. It's like every piece is a piece of information and over time you start putting the pieces together."
"You're not fed to the lions at all. You will have to draw upon your own backbone to deal with certain situations – but I'm so happy that I was able to have the experience and still be involved with it. Every day is full of variety".
"It's about helping people make better decisions. And I think becoming a Corrections Officer, we can also encourage ourselves to make better decisions as well.
It's hard to put the role of a Corrections Officer into words. It's challenging. It's invigorating. It's tiring. It's inspiring. It's where I've chosen to be."
Ready to make a move?
Start your journey - check out the a list of our current opportunities then apply online today!