8 August 2023
Recipient of the 2023 Ria McBride Public Service Award - Carolina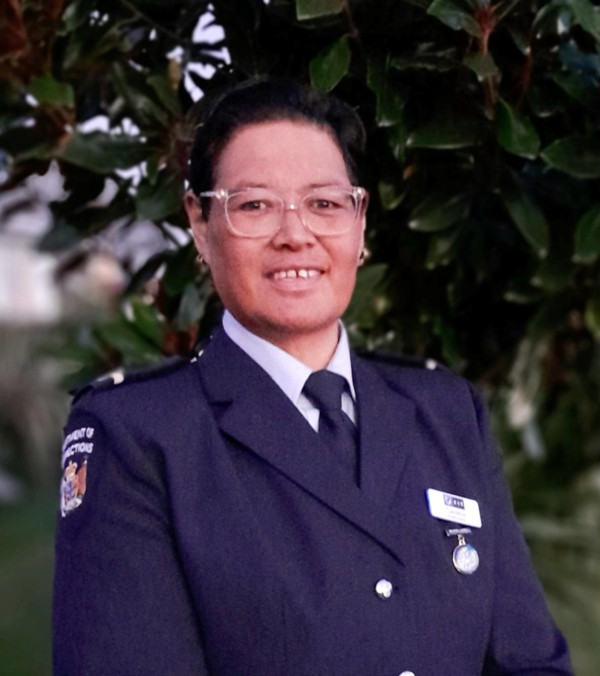 Carolina is a wife, mother and part-time Corrections Officer at Hawke's Bay Regional Prison (HBRP). She is also the distinguished recipient of the 2023 Ria McBride Public Service Award.

This esteemed award is a testament to Carolina's personal fortitude and leadership potential. The Ria McBride Public Service Award is designed to empower women working in the New Zealand Public Service, providing them with the necessary support to pursue their career aspirations through tertiary study. The successful recipient receives funding of up to $15,000 for study purposes to use over a five-year period.

Carolina expressed her gratitude and humility upon receiving the award: "It has been very overwhelming and humbling to receive the 2023 Ria McBride Award. To go to work and be greeted with congratulatory hugs and kisses from my peers at HBRP, I really felt the pride and support from them and our senior leaders such as, Prison Director George Massingham, because they get to see one of their own accomplishing something great. I am filled with happiness and gratitude."

"I want to be an example to my whānau by leading the way in a career in health. In my immediate and extended whānau, we have no health professionals, but we certainly have many hardworking ladies among us. This award will help me to achieve my goals and complete my studies in nursing and pave a new pathway, not only for my own career but for my whānau too," expressed Carolina.
Having dedicated 18 years of her life as a Corrections Officer at HBRP, Carolina says changing careers late in life has been a monumental decision to say the least.

"I expected to be a Corrections Officer through to retirement. My interest in nursing came from my own personal experience of living with diabetes, hypertension, and cholesterol problems. In June 2021, I decided to tackle my health problems and underwent a sleeve gastrectomy (gastric sleeve) surgery, which I funded all on my own. I was 135kg and am now maintaining my surgeons recommended weight of 85kgs. I no longer have type 2 diabetes, hypertension, or cholesterol problems. The surgery has been life-changing and has enabled me to promote health and wellbeing confidently and actively, while being healthy and well myself," says Carolina.

In July 2021, Carolina commenced full-time tertiary study with Te Pūkenga at EIT Napier. With the support of her senior leaders at Ara Poutama Aotearoa, Carolina was able to remain employed part-time as a Corrections Officer at HBRP.

Carolina said, "When Cyclone Gabrielle hit the Hawke's Bay in February this year, it disrupted my studies quite a lot. We had limited lectures and most of our learning had been self-directed and online, apart from when we were at placement in the hospital. I am grateful to be back on campus now though, with my awesome classmates. I am on track to completing my degree by the end of 2024."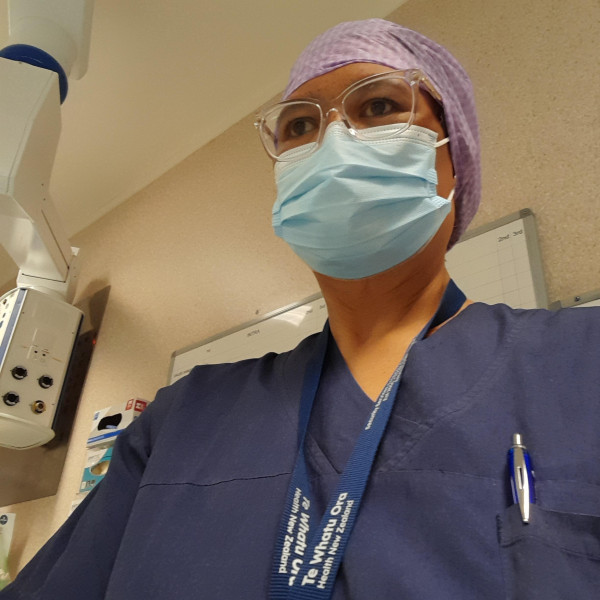 Carolina on placement at Hawke's Bay Hospital, going into theatre

Shannin Mortensen, Acting Deputy Prison Director at HBRP says, "Carolina consistently demonstrates enthusiasm and strength to help others. She is well respected and highly valued by her colleagues and senior leaders alike. Her contribution and commitment to her work with Ara Poutama Aotearoa has made a significant impact on the lives of those she has served. Carolina's determination to continue this impactful work through nursing is commendable and we fully support her in this next chapter of her career."

Liz Hawthorn, Regional Commissioner Lower North commended Carolina by adding, "This award is a whole of public service award and the quality of candidates that apply are of an extremely high calibre. Carolina's achievements stand as an inspiration to us all. She and her whānau should be extremely proud. We eagerly anticipate the positive impact she will undoubtedly make in the world of nursing...hopefully in Corrections."

Carolina aims to become a prison nurse upon graduation. "I look forward to working with health and custodial staff to address and combat health inequities within the prison environment. Māori are highly represented in prison, and many have health issues that are either poorly taken care of, or not taken care of at all. It is rewarding for prison nursing staff to be able to reach these patients (albeit due to incarceration), offer education about their conditions, and encourage them to take advantage of the medical treatment available in prison."

"I know that I can have an impact through leadership positions within the prison's healthcare department because I have a similar background to many of the people that are in prison, whether it be cultural, social, socio-economic, or otherwise. My strength is my connection to people. This mahi is not only beneficial for prisoners, but for their whānau and communities. Perseverance, engagement, and education are all important tools when striving for positive health outcomes for all," Carolina explained.

Carolina also talked about the influence that she is already having on her 11-year-old daughter who has decided that she too will be a nurse one day. "Often, I will peer over my laptop to see her watching nursing TikToks on her device. This brings me great joy, to see her interested in a subject and profession that will serve her, her whānau and community, for life."

Carolina concluded with, "If there is anything that I have learnt from this process and achieving this award, it is to always believe in yourself and your abilities, and the rest will fall into place."

'Ko te manu e kai ana i te miro nōnā te ngahere, ko te manu e kai ana i te mātauranga nōnā te ao.'
'The forest belongs to the bird who feasts on the miro berry, the world belongs to the bird who feasts
on education.'

*To find out more information about the Ria McBride Public Service Award and the application
process, please visit the Leadership Development Centre website
Ready to make a move?
Start your journey - check out the a list of our current opportunities then apply online today!