30 March 2023
Happily nursing at Hawke's Bay Regional Prison - Dayna's story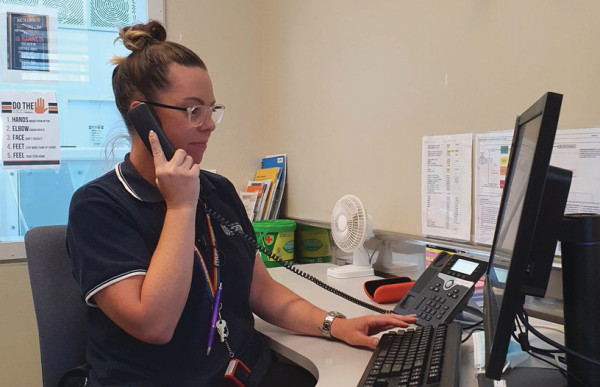 From the minute she walked into Hawke's Bay Regional Prison, Dayna knew she wanted to work there as a nurse. First, however, she had to finish her study.
Dayna left school at 16 without qualifications and no idea what she wanted to do next.
"School was definitely not for me. Studying was not for me. It was not something that I was good at, so I just thought, "right, I'll leave school and work. Now I've been working full time since I was 16," she says.
"It was actually my family and friends who pushed me to go into nursing because I am one of the go-to people for their mental health or if anyone's in hospital and that kind of stuff. So I kind of had that caring, nurturing side in me already and my mum was actually a registered nurse but I thought I couldn't do it because I didn't do well at school."
After years working in hospitality and becoming a mum, Dayna opened the letterbox one day and found the nursing enrolment form had been posted to her by an encouraging friend.
"But because of leaving school so early and school never being my thing, the thought of study terrified me."
Two years later, she decided to go all in and study nursing at the Eastern Institute of Technology in Taradale, Napier. Now she has been a nurse for two years.
She started with a six-month bridging course designed specifically for people who were new to studying which she found overwhelming to start with and then flourished. The nursing degree took three years working full time, which included placements in various wards and different types of nursing. The placement that really struck Dayna was one in Hawke's Bay Regional Prison (HBRP).
Initially, Dayna only knew prisons from what she had seen in the movies so she was surprised to find some of the people they look after walking around, doing jobs like cleaning but she soon became accustomed to her environment and says she "absolutely loves it".
She says that usually, in nursing, you are taking care of one part of the body but in Hawke's Bay prison she manages to look after the person in a holistic manner, helping people to open up and talk about their lives and mental health too.
"I love going to work. I love what I do. "
"I love going to work. I love what I do. I love it because once we start the steps for these guys - they're in our care 24/7 - we can follow that whole process. Whereas if I was in the hospital, they're discharged and you don't get the chance to follow up.
"One of my days, not that long ago actually, my morning started off with an emergency call for a chest pain. The patient was brought over to the clinic and had an ECG done and that actually turned out to be anxiety and a panic attack.
"And then that unravelled further to uncover that he had been having self-harm thoughts. So, then I started going down the avenue of improving mental health referrals, sitting with him and explaining anxiety and panic attacks, all the signs and symptoms, giving him a whole lot of information around that so that he had an understanding of what was happening and just educating him."
From the daily pill rounds, to the initial health assessment for each new prisoner, to wound care, Dayna is on the case each shift.
"If we are busy, shifts go really fast. Most days we are busy," she says.
The people Dayna looks after can also fill in "health chits" talking about what is ailing them.
"They might not be sleeping. A lot of these guys have self-medicated outside prison. So then when they come in, they don't have that anymore and that can mean they have been covering up a lot of trauma and that kind of stuff since they suffer with sleep. So, we'll bring them into the clinic and we'll talk to them about what's going on.
"Some will just request more inhalers or more creams and that kind of stuff. If they want to see the nurses, they can put on those health chits what they want to see us for and then we book them into clinic and we bring them over and we talk to them. There's always clinics running every day."
Every now and then there might be someone who's been injured and whenever that has happened, a visit to the clinic is always offered. Some people decline to see the nurses, but it is part of Dayna's job to encourage them to open up. She sees this as one of her biggest challenges.
"Yeah. It's probably getting through to some of the really hard exterior guys. They don't smile, they don't tend to joke a lot, but breaking down that barrier with them and having them actually open up to you and say, "Oh yeah, look, this is going on."
Dayna advises anyone who wishes to bring their nursing skills to prison, to simply ask.
"For anyone even thinking about it, just go and have a walk around, ring up whatever prison you're near to, talk to the health centre manager and just say, 'Hey, I just want to have a look to see what it's like.' I just love my job. I love turning up to work."
Ready to make a move?
Start your journey - check out the a list of our current opportunities then apply online today!