21 April 2023
Full Probation services on prison grounds a first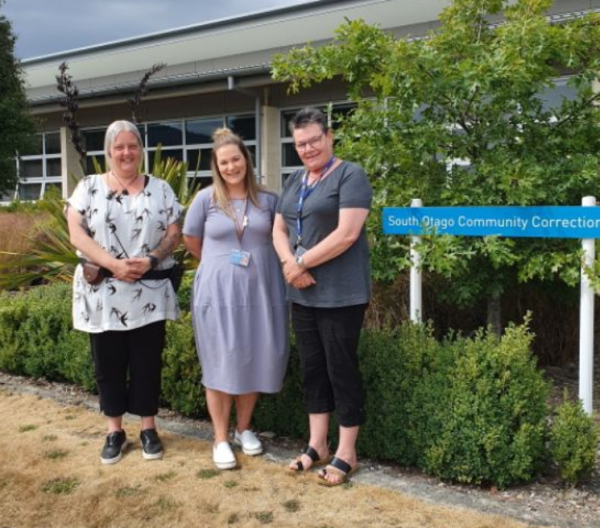 By working together, Community Corrections and Case Management staff can strongly influence a person's successful reintegration.
While Community Corrections transition staff do work within prisons alongside their Case Management colleagues, strengthening this transition service is a particular area of focus in the Southland, Central and South Otago district, with the first full Probation service to be situated on prison grounds. For men transitioning from prison to community, and especially those moving to the local area, this means their probation officer is on site, working alongside their case manager, building a strong rapport and supporting men through their last period of prison and into the community.
The probation site at Otago Corrections Facility (OCF) is based outside the wire at the end of the administrative building. Visitors have a separate access for report-ins, rather than having to go through the main reception.
"We have been undertaking some work around how we can work more effectively across our Probation and Case Management spaces," says Service Manager South Otago and OCF Transitions Emma Marshall. "There is some excellent work happening between Community Corrections and Case Management. It is exciting to see how the case managers are willing to be creative with the South Otago team in working differently for better outcomes of these men and their whānau."
Emma says strong partnerships with an individual's whānau and other community organisations, are helping build a more successful, trusting and less stressful transition for people leaving prison.
"This collaboration has also given the probation officer and case manager a better understanding of each other's roles, and the ability to have more targeted conversations with the men about what to expect on a custodial and community sentence," she says. "Having our full Probation services on site at OCF makes it easy for us to work alongside our case manager colleagues and ensure we have a robust release plan, and the men leaving prison are well connected with whānau and community services prior to release."
Ready to make a move?
Start your journey - check out the a list of our current opportunities then apply online today!