27 September 2022
Bringing the Women's Strategy to life at Arohata Prison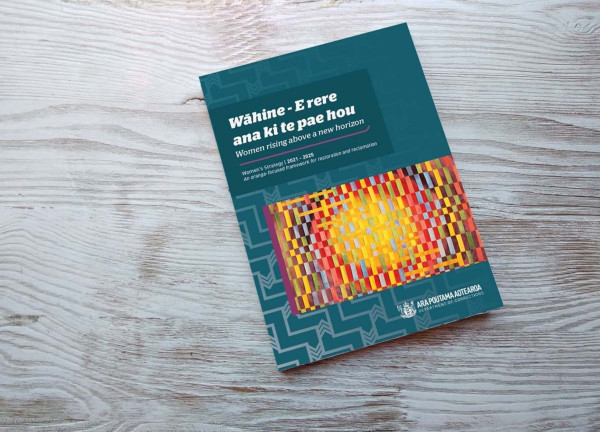 For Ashleigh Little, Assistant Prison Director of Arohata Prison, Ara Poutama Aotearoa's Women's Strategy is far more than just a document – it's a mindset shift, and a push for things to be different.
"Historically, care in prisons has been quite focused on the high volume of men.
The Women's Strategy has almost given us permission to say, look it can be different - and it's not better or worse, it just needs to be different to meet the different needs of women."
Wāhine - E rere ana ki te pae hou Women's Strategy 2021 – 2025 (the Women's Strategy) is a guiding document for the team at Arohata, and other women's prisons in New Zealand, to think differently about how Ara Poutama Aotearoa cares for women.
It has four key focus areas: Tautoko – "Do what's right for me"; Holistic approaches – "See the whole of me"; Whānau and whānaungatanga – "Take time to get to know me" and Reclaim and restore – "Acknowledge my journey".
Ashleigh says that within Arohata, the Strategy has enabled her team to be aspirational and constantly consider how they can improve their policies and processes to work more effectively for women.
She provides an example of Wāhine Runanga panels that have been introduced as part of the Strategy, which give women the opportunity to provide feedback on the operation of the prison.
"We have a monthly korero with women across the site who represent different areas, such as the different units or those doing tertiary study or trade training. They have the opportunity to meet with myself and Pippa (Arohata's Prison Director) and provide feedback on what's going well and where the gaps are.
It's created this really lovely back and forth and allowed us to be held accountable for things that we say. We can't always change everything, but it's allowed our women to be heard and understood, and for us to provide information to them around why things are happening, how decisions are made.
It also helps to make sure that the changes that we're implementing are actually going to directly improve lives, rather than just being a good idea on paper."
It's not just specific initiatives like these that are changing things either – Ashleigh says that the principles of the Strategy are brought in and embedded in small ways every day in their work.
"As an example of this, we had a conversation this morning about the need to set up a Multi-Disciplinary Team (wrap-around support) around one of our women and the importance of involving her in those discussions.
So, if we're talking about how we support that woman, it's not a bunch of us deciding what happens in her life and making assumptions about how she might want to be or what pathways she may want to engage in.
It's about amplifying our women's voices to have a say in what their pathway looks like."
Ashleigh highlights that the Strategy offers exciting possibilities for people who are passionate about making things better for women, as there's the same drive within the organisation. With more changes on the horizon, she's looking forward to seeing how implementation of the Strategy will continue to be brought to life at Arohata.
"The next phase for us is around continuing to think about how we do things differently – not only with regards to women versus policies that are designed for men, but also how can we continue to develop relationships with our community that are going to really successfully transition our women. So, kind of continuing to hold the care.
Then there's ongoing conversations we're having with different community organisations and iwi around the Strategy, listening to people and their ideas…
There's just so many different things that we have plans for here."
Ready to make a move?
Start your journey - check out the a list of our current opportunities then apply online today!